Jean Marie Olianti is
the husband to Collineige founder Colleen, a
mountain guide
and
a member of the Compangie des Guides
.
If you've stayed with Collineige in the past, you'll know how much of a "family affair" renting our favourite luxury chalets and apartments in Chamonix has become.
When you book with Collineige be prepared for Colleen to share the Chamonix she adores…but also her expert husband!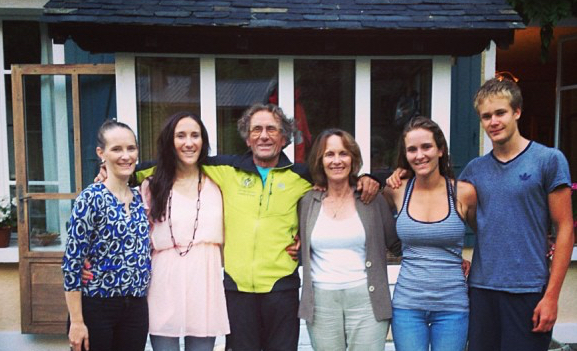 Above from left: Julie Olianti, Camille Olianti, Jean-Marie Olianti, Colleen Olianti, Marie Olianti, William Olianti
Jean-Marie Olianti Interview 2020
In the following interview Jean-Marie sits down with his daughter Camille to discuss a little of his career, the summer, and what we can expect this winter 2020 in Chamonix Mont Blanc.
He would also like to remind everyone that 2021 marks the 200 year anniversary of the Compagnie des Guides de Chamonix.
You can follow the festivities to be revealed on their website here.
More About Jean-Marie


Once upon a time Jean-Marie Olianti was a
chef at the prestigious and influential Roux brothers' Le Gavroche restaurant in London.
However, with his Italian father and a mother from Les Houches the mountains were always calling…so how did this charming alpine sleuth "make it to the top" so to speak?
At the start of his cooking career, Jean-Marie worked for many Michelin-starred restaurants, but all the while knew he was most attracted by the profession of mountain guiding.
He has climbed many mountains over the years, however, it is here in Chamonix where he daydreamt of being a climber. Championing those technical climbs were the most challenging, for example, Les Drus.
He has plenty of mountain material to daydream on, having accomplished most of what he wanted to do; Earning a living by traveling, meeting great people on the way, and doing what he loves (and excels at) in beautiful mountain landscapes. What he describes as an "incredible vision of the world" in this 2014 SeeChamonix article.
"

It's a profession I have always loved practising. Being outdoors & exercising. Skiing at a high level. The satisfaction of achieving something. Reaching the top of a mountain is an incredible sensation.

"
With this vision, Jean-Marie shares not only Chamonix and his experiences with the clients of Collineige, but is always generous with the seasonnaire staff of Collineige from all corners of the World and the many exchange students the Olianti family welcomes into their home through the Rotary Club of Chamonix Mont Blanc.
Interview location: Chamonix Chalet Valhalla
Interviewer: Camille Olianti
Edit: Kirsteen MacKenzie
Music: Chance, Luck, Errors in Nature, Fate, Destruction As a Finale de Chris Zabriskie fait l'objet d'une licence Creative Commons Attribution 4.0. https://creativecommons.org/licenses/by/4.0/
Source : http://chriszabriskie.com/reappear/
Artiste : http://chriszabriskie.com/