The Junction, where the Bossons and Taconnaz glaciers join and where many gems are yet to be revealed.
Gem-hunting is always an adventure. In France, there is a fascinating group of fearless people who scale the Mont Blanc Massif in search of precious crystals. Since the 18th century, mountain people have been searching for gems. These these same men became mountain guides. Crystal hunters are special types of adventurers; part climber, part geologist and collector. The crystals that they find are often sold to be used in chandeliers and jewels.
In the warmer months of the year, you won't be surprised seeing crystal-hunters heading to some of Chamonix's most remote and dangerous rock faces, carrying with them ropes, pickaxes, and camping gear. The harvest begins when these adventurers find a suitable cave, known as crystal-ovens. These natural incubators provide the ideal setting for crystals to grow. These ovens often yield quartz and every so often fluorite or malachite.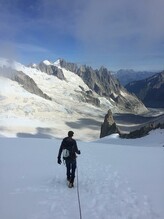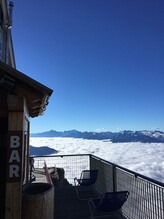 Christo Baud, leading the way down the Vallée Blanche and the view from Torino hut
At the start of September 2020, Camille, daughter of Colleen and Jean Marie Olianti, had the privilege to go on a crystal hunting adventure with Christopher Baud, a well-known crystal hunter of the Chamonix valley.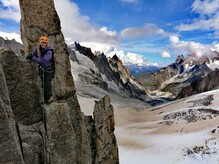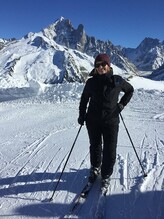 Jean Marie, Camille and Colleen Olianti
Christo led Leo Legrelle, a professional photographer, and Camille down the Vallée Blanche of Chamonix to see an old crystal oven that he had discovered in 2010.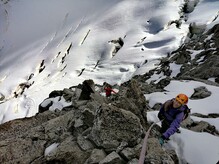 Camille and Leo trad climbing up between la Vierge and the Grand Flambeau
The trio left Chamonix at 8 am, drove through Mont Blanc tunnel to Courmayeur and took the SkyWay cable car up to Point Helbronner (3400m). Once roped in and crampons on, Christo, Leo and Camille headed down the Vallée Blanche, climbed up a peak and rappelled down a rock face to reach the oven of crystals. The crystal oven was approximately 1.5m large and 1m high by the entrance. The hole got smaller and narrower rapidly, making it difficult to crawl into the hole. The oven was not more than 3m deep.
This oven, discovered in 2010, was mostly empty. All the big pieces have been sold or saved. What was left in the crystal oven were a few crystals covered in some green earthy chlorite, a mineral that can be washed off the crystals.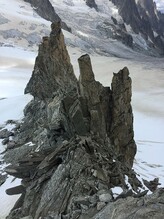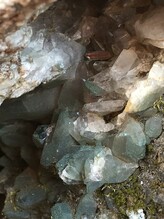 La Vierge rock face. Crystals of quartz with chlorite dusted over some of the faces. Crystal of quartz before the spectacular Mer de Glace
A short documentary was made during this special day. Check it out HERE !