October and November in the French Alps is always a popular time for its amazing scenery and calm atmosphere. Come early December the snow sneaks lower and lower into the valley and the scene is set for the Chamonix ski season 2020 - 2021. Escape "working from home" to a real "hot desk" by one of our cosy chalet fireplaces and social-distance in style.
Covid 19 and the "état d'urgence sanitaire" in Chamonix
When looking into travel options for France you have surely read about the "état d'urgence sanitaire" or "state of public health emergency" that the French Government has applied since Saturday, October 17th. The recent changes (upgrades to existing regulations) are a series of exceptional measures aimed at strengthening health security and combating the spread of the epidemic.
The Ministry of "Solidarity and Health" here has classified the territory into several zones determined by the number of new cases per 100,000 inhabitants over 7 rolling days. If the zone has higher than 50 new cases per 100,000 inhabitants, the area passes into an alert zone. The incidence rate for Haute-Savoie, as of October 20th, is 260 per 100,000 inhabitants. This is less than Spain for example with an average of 332 cases per 100,000 inhabitants, or comparable to the dark purple zones in the latest statistics from the United Kingdom below.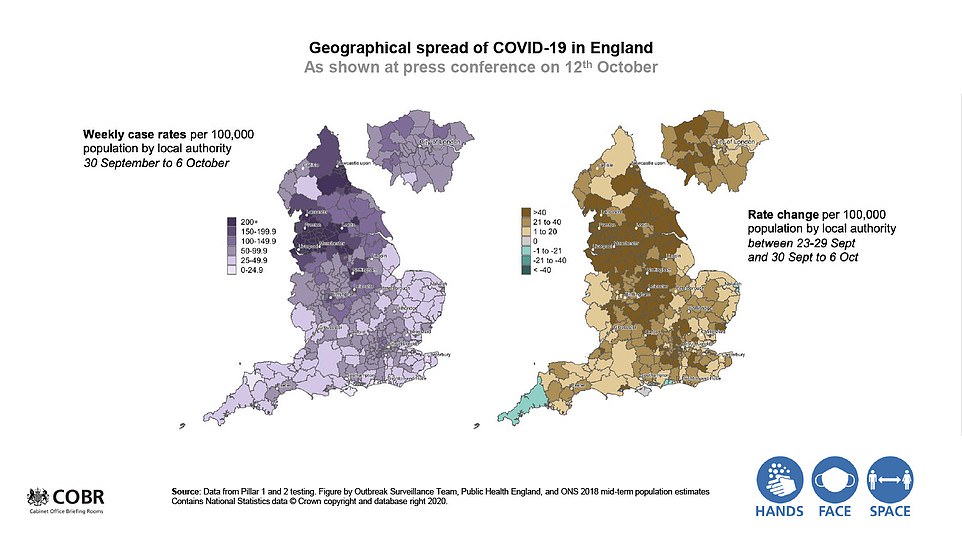 In France each department has the right to impose their own safety measures, as well as those the Government advises. For Chamonix this means masks must be worn in all of the central streets, despite the reduction in tourists since temperatures became much colder and snowflakes began to appear. Here is the local mayor talking about the upgrades he's making to health measures and postive news about an ambitious plan announcement for winter 2020/2021 in the coming days:


Updated barrier measures mean restaurant tables are limited to a maximum of 6 people and new regulations require that you leave your contact details at any restaurants where you sit down to eat (a measure to enable the tracking of any viral clusters). We'll keep you up to date about the possibility of a curfew from 9pm...thankfully this won't get in the way of your alpine time or even early season skiing as at 9pm it'll be time to jump into your Jacuzzi or Sauna (Doctor's orders of course!).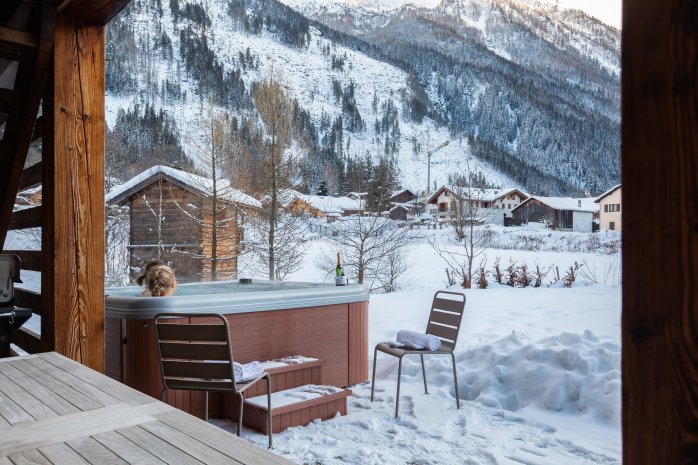 Collineige and Covid 19
Collineige is happy to give you re-usable masks made by our in-house couturière as well as access to a range of meal delivery options. This summer we published a number of articles outlining our favourite outdoor terraces favoured by social distancers, see here. 2020 marks the final winter season when you will be able to profit from heating in outdoor areas in France as new environmental restrictions come into place from spring! We therefore urge you to enjoy them in their full warmth and glory this season!
Collineige also has superlative standards in the cleaning and disinfection of properties between guests. No Covid contaminations were related to our properties throughout the summer period, this includes the TWO weddings which were hosted at Chalet Valhalla (a truly remarkable effort by our service team in maintaining health and safety standards).
No Incoming Quarantine
While it would be more than lovely to be locked into one of our luxury properties for ten days, fortunately that's not required for in-bound travelers to France at present.
Settle in: Work from a home away from home
The UK and even Germany are now implenting lockdown style actions much harsher than those in France, or at least in Chamonix at present. For Britain under tier three rules - currently only applied to Lancashire and the Liverpool City Region - pubs and bars not serving substantial meals have to close, while household mixing is banned indoors and outdoors in hospitality settings and private gardens. Meanwhile, for Ireland people are being asked to stay at home and will only be able to exercise within 5km (3 miles) of their home.
Our reccomendation, if you want to make the most of living in luxury, sharing your life with extended family and of course enjoying the French alps...is to settle into Chamonix as your home away from home.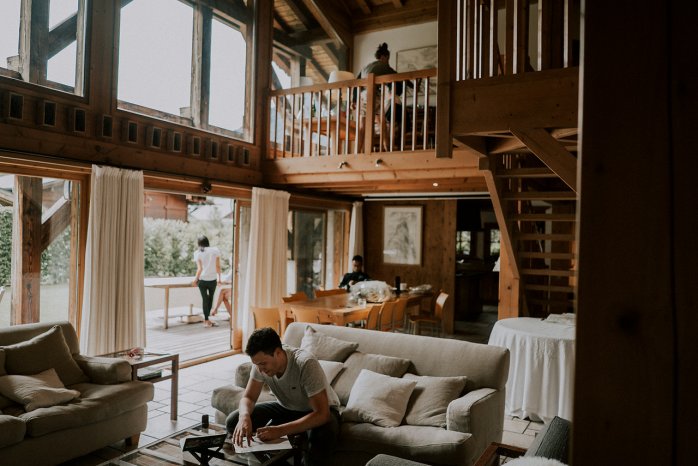 This is a new trend that is happening all over luxury resorts in the Alps and the best properties won't be on the market for long! Ask yourself in the eventuality that you were again restricted to a 3-mile radius from your home and totally isolated, wouldn't you rather that "home" be within 500m of a nordic ski piste in central Chamonix...
...in that case contact us today about the eventuality of uniting up to 10 of your closest friends and family at 5* Chalet Valhalla for the entire season. You can work as Colleen does, fireside below:
Surreal Hiking & Climbing
A peaceful solitude awaits you on empty alpine trails and climbs, where your most likely companions are the "flore et faune" of the Alpes, unless of course you hire a guide. Remember there is no such thing as bad weather…only ill prepared hikers! Collineige is a family run chalet company, ready to provide expert intel to prepare you for your trip, right down to which paths to take and what to pack! Jean-Marie Olianti, the husband to founder Colleen Olianti, is an experienced guide with the famous Compagnie des Guides de Chamonix. He and their daughter Camille, who recently became a crystal hunter, are both happy to give advice and help you to plan your adventure.

Fantastic Photography Opportunities
If you're an enthusiast for photography autumn is the perfect time to capture the natural beauty of the area. Regardless of the current travel constraints Chamonix is traditionally calmer at this time of year. Having the amazing scenery of the Mont Blanc region almost all to yourself is simply spellbinding. Add to that the low soft light of autumn that cloud cover and mountain mist provides and the contrasts of the vibrant autumn colours, the fresh white snow dustings and the black granite mountain peaks above. You'll have the pictures to encapsulate that feeling of freedom you'll never forget…a feeling that we need more than ever after a very trying time in 2020 marked by being masked and locked down.
On your skis from the end of November!
Whether you're planning ahead for your winter ski holiday or looking to sneak in a weekend away before the "silly season", the current rates and dates below may help you to budget and plan.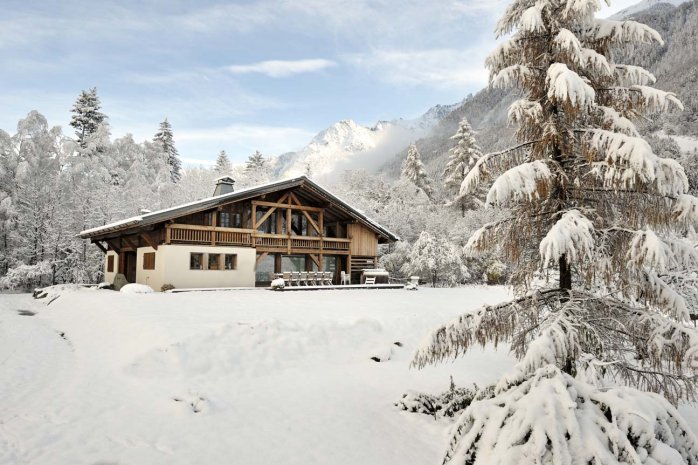 Chamonix 2020
– 2021
Ski Season
: Opening Dates and ski passes
The official opening date of the 2020/21 ski season in Chamonix is the 21st of November. This often applies to the early snow deals available only at weekends and is dependent on snowfall.
| | | |
| --- | --- | --- |
| Area | Opening dates 2020 | Closing dates 2021 |
| Grand Montets | Full Opening: 19th December | Official closing: 3rd May |
| Le Tour | 19th December | tbc |
| Vallorcine | 19th December | tbc |
| Brevent & Planpraz | Full opening: 19th December | tbc |
| Flegere | Full opening: 19th December | tbc |
| Les Houches | Full opening: 19th December | tbc |
Chamonix 2020
– 20
21
ski season :
Mont Blanc Unlimited ski pass
rates
At Collineige we recommend the unlimited ski pass. This gives you access to the Aiguille du Midi and amazing views of Chamonix and the Alps that only a visit to the highest altitude ski lift in Europe could hope to provide! Also there are other deals associated with the pass such as a complimentary luge ride and hopefully (as last year) a visit to the QC-Terme spa.
FIRST SNOW
From Saturday 21st November 2020 to Friday 18th December 2020.
ADULT
15-64 yrs

REDUCED
5-14 yrs
65-79 yrs

FAMILY
2 adults
+ 2 children

1 day

70.00€

59.50€

217.00€

3 days

110.40€

93.80€

342.20€

6 days

220.90€

187.80€

684,80€
HIGH SEASON
From Saturday 19th December 2020 to Friday 2nd April 2021.
ADULT
15-64 yrs

REDUCED
5-14 yrs
65-79 yrs

FAMILY
2 adults
+ 2 children

1 day

70,00 €

59.50€

217.00€

3 days

202,00 €

171,70 €

626,20 €

6 days

336,00 €

285,60 €

1041,60 €
SPRING SKIING
From Saturday 3rd April 2020 to Monday 3rd May 2021.
ADULT
15-64 yrs

REDUCED
5-14 yrs
65-79 yrs

FAMILY
2 adults
+ 2 children

1 day

70,00 €

59.50€

217.00€

3 days

110,40 €

93.80€

342.20€

6 days

220.90€

187.80€

684,80€
Saluting September and Streaming Weddings
What a special month it was here at Collineige, in September 2020 we hosted two different weddings at Chalet Valhalla, right in the centre of Chamonix Mont Blanc. The first wedding took place over a warm sunny weekend; the second unfolded the day after the first snow-flakes fell in Argentière, a town and ski area 10 minutes up the road and only a couple of hundred metres higher than Chamonix. It's incredibly special to have shared these moments with everyone at the wedding and even more amazing that we were able to set up live steaming for each event. Thanks to our local contacts one of the weddings was even streamed live with two camera angles all the way to New Zealand! If you want to know more about weddings and honeymoons in romantic and picturesque Chamonix, do drop us a line.
Reduced Prices Last minute autumn dates are now on sale here!