French deconfinement in Coronavirus green zones, such as Chamonix, has been relaxed just in time for the Summer holidays. Chalets and luxury properties throughout Chamonix are seeing a growth in European holiday bookings for 2020 as most borders are set to open on June 15th, with the exception of the Italian border which reopened on Wednesday, June 3rd.
The health situation and deconfinement regulations evolve weekly in a positive direction in France. This blog article is to get you up to speed on the current rules, regulations and sanitary situation, which could apply to your Summer holiday in Chamonix. For up to the minute information contact our sales team or the French embassy directly.*
What's on the MENU?
Restaurants and bars in Chamonix are back open, but other alternatives are available
---
The reopening of bars and restaurants marks the latest step in France's easing of lockdown measures, even though strict hygiene and barrier gestures remain in place. These measures include tables being set at least one metre apart and the obligation to wear your mask when not seated.
Currently in France groups no larger than 10 (who have not been confined together) can gather in public, and can already be seen dining together in the newly COVID adapted bars and restaurants of the valley (which opened on June 2nd).
View this post on Instagram
However, our private properties, with drop off breakfasts and grocery bundles on offer, are the ideal escape to respect the ongoing social distancing measures (from the comfort of your bathrobe). We are perfectly adapted to host small private events and we work closely with local chefs and even DJ's (night clubs still remain closed) to provide the perfect ambience for any setting (with respect to sanitary conditions).
With your property booking you will receive a well-researched list of Chamonix take-away options, which indicates where delivery is available.
What's up the MOUNTAIN?
The lifts in Chamonix are opening back up for summer with compulsory health measures
---
Locals and other residents within a 100km radius of Chamonix had previously been enjoying the reopening of the Aiguille du midi and the Montenvers train all to themselves. Now tourists from throughout Europe have been arriving to discover the strict health measures that the Compagnie du Mont Blanc has set in place. These include wearing a mask in confined spaces, thermal cameras to check guests' temperatures and the installation of perimeter markings within cable cars and throughout their sites.
Access to the mountains has coincided with the return of Guiding services and government permission for open-air sports and alpine activities to resume. The Chamonix Guide Bureau, which is the oldest in the world, has been operational since May 16th.
View this post on Instagram
Relaxed rules apply to open air sports, for example, you must respect distancing of 1.5m between two hikers or trail runners, in groups of no more than 10 people. For cyclists and mountain bikers, you must keep 10 metres between each rider. Meanwhile multi-pitch climbs have been given the green-light, along with parapenting.
For Chamonix hikers who want to exchange the talk of Coronavirus for some fresh alpine air, most refuges and buvettes (high altitude restaurants and sandwich bars) have already opened, and the Parc Animalier de Merlet, Les Houches, has also been welcoming visitors since May 16th!
What about CULTURE?
Museums are back open, while cinemas will reopen on June 22nd
---
Museums and Theatres have reopened throughout France, including in Chamonix. For example, the Maison de la Mémoire et du Patrimoine Janny Couttet, rue des Moulins, has already opened its doors to locals. The current photo exhibition will be extended until the end of September and is an absolute must see for Summer tourists: "Hauts lieux et clichés. Trois siècles de photographie touristique à Chamonix" highlights the photographic and touristic history of Chamonix from the mid-19th century to the present day.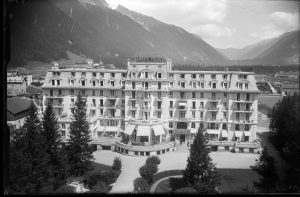 Picture from the Chamonix Archive dating to the 2nd half of the 20th century
The local Cinema in Chamonix will reopen on June 22nd, while a new 4D experience at the base of the Aiguille du Midi in Chamonix centre is set to take you on a socially distanced ride through the Haute Alpes on the back of an eagle!
Bars and restaurants also often have a cultural aspect, from quizzes to musical offerings, however night clubs are expected to remain closed. Luckily we have a solution from the daughter of Collineige owner Colleen…how about an in-house private DJ session: (this promo video was even filmed at our flagship chalet Valhalla)
What about CONTAGION?
---
Throughout the pandemic any serious local cases of Coronavirus were treated at the hospital in Sallanches (25 minutes away). Hospital staff still recommend the use of masks and these are compulsory on public transport, in shops, restaurants (when not at your table) and in cablecars, at the request of Compagnie du Mont Blanc.
We take hygiene very seriously and will be offering gel sanitiser (with alcohol) to all of our clients as well as the usual complimentary products from luxury French brand L'Occitane. Our properties are also fully deep cleaned between clients and we can offer extra cleaning during your stay on request. Additionally we have an in-house couturière who has been making masks for the local municipality as well as our guests:
The low circulation of the virus locally combined with these measures all help to limit contagion. Unlike other larger companies Colliniege is family owned and managed and we are available locally with help and advice to share as though you are part of that family too.
PLUS! There's no better defence for your well-being than a stress-free vacation full of healthy alpine exercise and relaxation…which of course Chamonix is renowned for.