Welcome to our favourite day hike in the Cham Valley! Accomplished mountaineer Anatol Boukreev once said "Mountains are not stadiums where I satisfy my ambition to achieve, they are the cathedrals where I practice my religion." Take it from someone who's done 10 of the 14 eight-thousander peaks to know a holy trail when he sees one, and take it from us that this is THE one day hike to do in Chamonix.
Here's everything you need to know about heading past the Col des Montets to Lac Blanc:
The Transport
Take the SNCF line St. Gervais - Vallorcine and get off at Chamonix Le Tour Montroc station.
(In "Lines", choose the line 82 "Saint-Gervais - Chamonix - Martigny" then click "Search.")
The Hike: Lac Blanc par Col des Montets
Duration = about 6 hours walking
Distance = roughly 18 km
Elevation gain = 982 m (train station Le Tour Montroc = 1370 m/Lac Blanc = 2352 m)
Vertical Drop = 1 292 m (Lac Blanc = 2352 m/Chamonix = 1060 m)
Best season: Autumn, to enjoy the lack of tourists, and changing colours.
From the train station in Montroc walk until you get to the reception chalet at the beginning of the reserve, and take the path that leads to the lakes Chéserys and Lac Blanc. The ascent at the beginning is quite steep but once it's completed the views are breathtaking!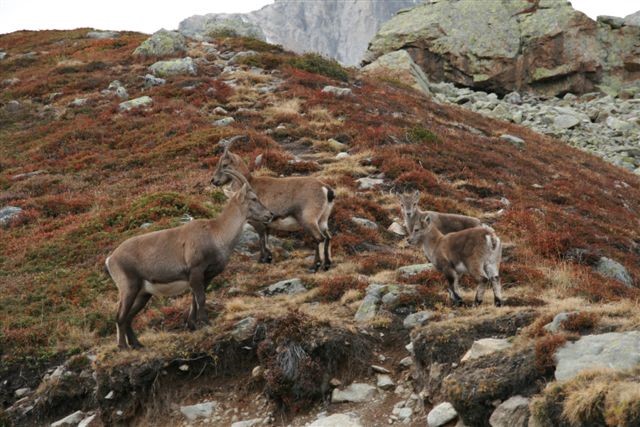 You may pass mountain goats or "Ibex" along the way!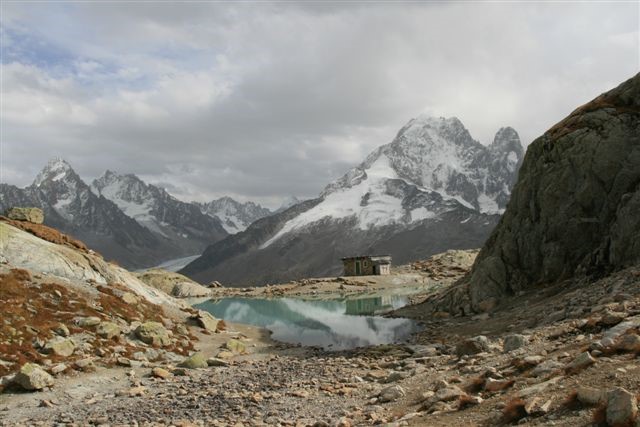 The view at Lac Blanc to the Aiguille Verte and the Drus is your famous reward!
Not for the faint hearted, between Lac Blanc and Lac Chéserys, the trail descends rapidly a vertical drop of 200m with some passages equipped with a metal ladder.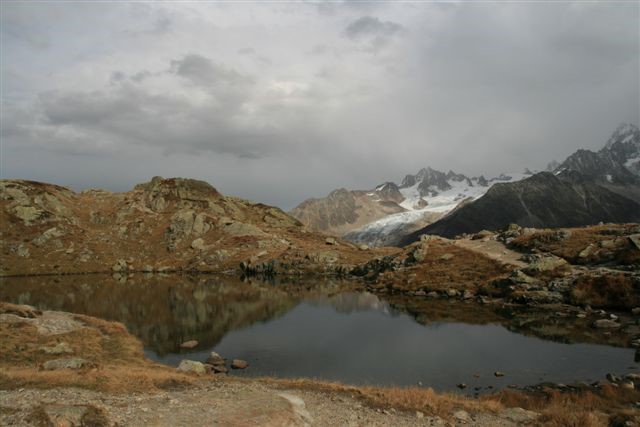 Lac Chéserys
After Lac Blanc take the trail down to the Flegere mid station, or over to the higher Index chairlift (slightly more exciting). It's best to ask about the state of this route before setting off on it as it can have dangerous hard snow (névé) in the couloirs well into summer. Either check with staff at the refuge, or before you set off at the Office de Haute Montagne.
Then there's the cable car for the descent to Les Praz or you could take one of the descent paths to Les Praz to continue the adventure à pied! BUT pretty tough on the knees straight down so why not swing past the balcon via Chalet Floria, a lovely walk, and anyhow the added bonus comes on a cheese plate!
Too stunned to leave?
YES it's possible to stay at the refuge at Lac Blanc overnight and enjoy the serenity after the crowds have disappeared BUT reservations are essential and are half board only.
There's no camping but it's permitted to bivouac from sunset to sunrise – Lac Chéserys (pictured above) is a lovely place to do this.
Images www.hunza.pro