Tour De France 2016 is coming! Your ideal spectator plan, transport, restaurant and Chamonix Chalet Guide lies below! Chamonix is at the heart of the Tour De France 2016 cycling action this month. The 103rd edition of the Tour is returning to Haute-Savoie from the 17th to the 20th of July. Follow our ultimate itinerary guide and enjoy the world's best cycling in the spectacular French Alps with Collineige, and Chamonix as your base:
Sunday 17th
Arrive in Chamonix where fabulous
Chalet Les Tissourds
awaits you and your closest friends, family and bike fanatics! With four double/twin rooms, Jacuzzi and cinema room it's the perfect place to relax and follow the action of the Tour on TV. The breakfast of champions (croissants!) are a phone call way, our Chamonix team are available to deliver your bakery requirements from 7am!
Monday 18th
The Alps stages are here in one sleep so why not get a better perspective on them from the "Aiguille du Midi". At 3842m altitude you can cast your gaze to Italy and nearby Switzerland where Stage 17 will begin and end tomorrow!
Impossibly delicious and healthy too, we recommend nearby
L'Impossible
for dinner. Their set menus are to ride for!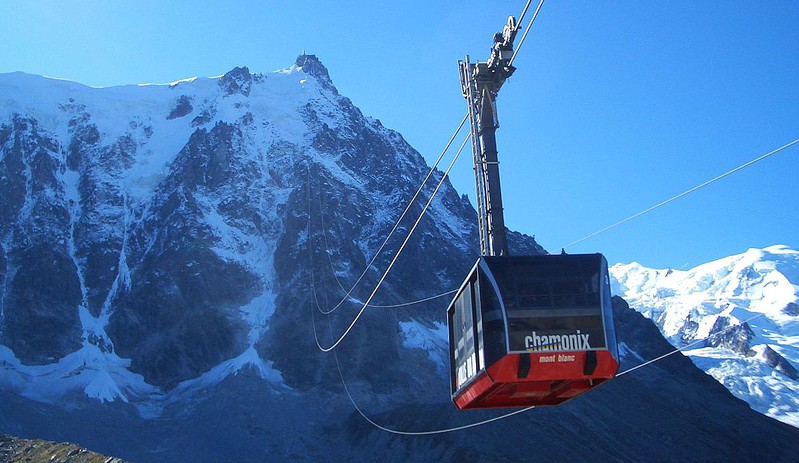 "Aiguille Du Midi" cable car rising to 3842m
Tuesday 19th
Get on your bikes and ride! Chamonix to Sallanches (retour) is the perfect "warm up" ride for enthusiasts. A mild 68km and an elevation of 787m you can burn off last night's dessert.
If you can't bring your own bike, don't worry, our team in Chamonix has friends in all the right places to get you on a race ready saddle!
Wednesday 20th
AND THEY'RE OFF! Stage 17: This route begins in Berne at midday and is expected to finish around 17:00 following an incredible 10km climb to the edge of the Emosson Dam (Martigny). This finish line is a 32km drive from Chamonix but we recommend the public transport. Take the bus to Finhaut, departing every hour, minutes before the top of hour, from the
Chamonix Bus terminal.
Once in Finhaut there are buses taking you from the main station to the dam every 18 minutes past the hour.
Better still take the scenic funicular train to your destination, be sure to book your
tickets online
as this will be a popular choice. (search Finhaut>Lac d'Emosson Minifunic, 20.07.16, at 13:16)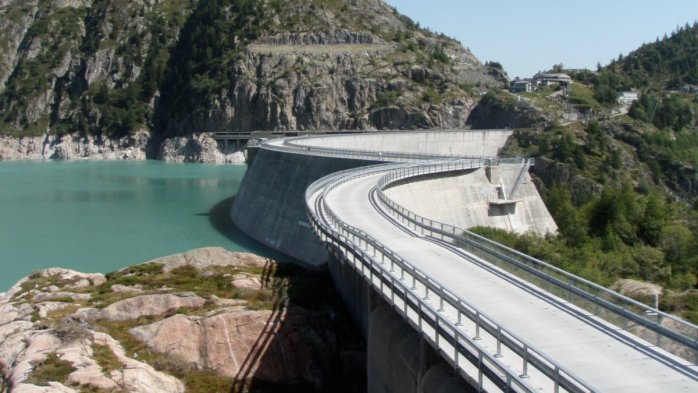 View from the famous funicular, an incredible place for a finish line.
Thursday 21st
For stage 18 the peloton faces a 17km uphill time trial from Sallanches to Megève. Before reaching Megève, the best climbers will be pushing themselves on the tough Côte de Domancy into the Côte des Chozeaux.
We recommend finding a place on the side of the Route de Saint-Gervais, here the climb really begins and the riders will be looking for encouragement! Get there in 20 minutes by car or 2 hours on your bike from Chamonix OR simply jump on the free train to St.Gervais Le Fayet and follow the noise! The action starts around 9am with riders every 2 minutes.
Friday 22nd
Stage 19 is Albertville to Saint-Gervais and covers 146 km including passing by the stunning Lake Annecy. Follow yesterday's plan and watch the starting line near the train station, or pack your pique-nique and head just over an hour for the thrilling lakeside action in Annecy (remember the Autoroute tolls will set you back about 19 euros). Alternatively you can take a paid 2.5 hr train ride or 3 hr bus.
You could even book in advance and test the best of the local cuisine at our favourite Annecy restaurant:
Le Chalet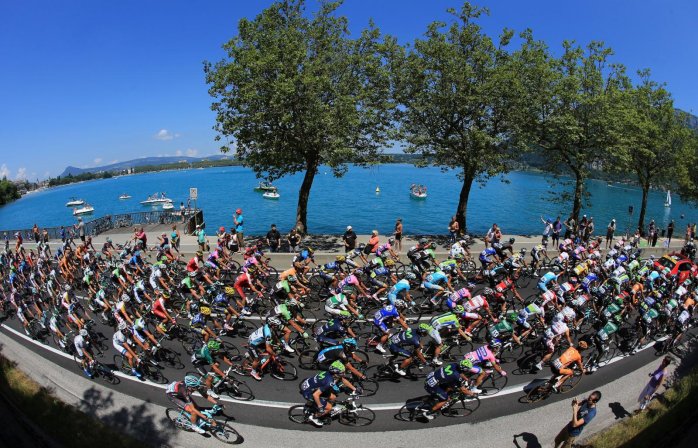 The peloton racing lakeside in Annecy 2015
Saturday July 23rd
Stage 20, the final before the final! Before the final showdown on the Champs-Élysées in Paris the climbing-fest comes to a conclusion; Megeve – Morzine with a grueling 146km. As the finish line approaches, the riders have to show their skills and keep a good position on this decisive stage.
Watch it all begin at 12:55 just an hour away from Chamonix in lovely Megève.
Alternatively set up spectatorship at Scionzier, the essential place of passage between Chamonix and Genève. You've probably never given this small village a second glance, but here you'll find the half way point of this critical stage and many proud locals to ring your cow bells with!
Then it's finally rest day and you can watch the last Paris stage broadcast on TV in your own private chalet.