Joining us this July in Chamonix means a mountain of events to tackle – so let us be your mountain guide! Read on below as we go over our TOP recommendations for each week of this busy, sunny, gorgeous Chamonix month of July…
Collineige Recommendations July week 1
Mountain Rescue Open Day
Saturday July 6th from 10am – 6pm
Celebrate with the PGHM and other mountain rescue heroes of Chamonix Mont Blanc. You'll enjoy a helicopter demonstration, food, fun and climbing.
Where?
Helicopter "Drop Zone" in les Bois de Chamonix
Cost:
FREE

Saturday July 6th from 9.30pm
An open-air children's film screening (in French) followed by fireworks at a fantastic lake setting.
Where?
Lake Passy, only 20 minutes drive from Chamonix.
Cost:
FREE
BE inspired and coached by 120+ certified mountain guides and 30+ professional athletes in Chamonix Mont Blanc. Plus discover the Arc'teryx speaker series, bouldering wall, free movies, gear tests and even live music at their Alpine Village.
Where:
40 different clinics throughout Chamonix + the 'Arc'teryx Alpine Village' in front of the Tourism Office.
Cost:
Mostly FREE
The Chamonix Yoga Festival is a three-day festival of yoga, massage and wellbeing classes and workshop. These may take place in the mountains, or indoors in the wonderful rooms of the Majestic.
Where:
Based from their headquarters at the Majestic de Chamonix, but also outdoors
Cost:
Full price: 108 to 360 €.
Rates include, for the chosen day: Welcome gift, unlimited access to all classes, workshops & conferences. Concert & Yoga trance dance Included. (there will also be free concerts at Parc Couttet near the Maison des Artistes).
Collineige Recommendations July Week 2
Welsh singer Michael Jones, who has worked with French legend Jean-Jacques Goldman celebrates the opening of the Climbing World Cup on July 11th.
Where:
Place du Mont Blanc
Cost:
FREE
Right in the centre of Chamonix the world's top climbers battle for the World Cup in the disciplines of 'speed' and 'difficulty'.
Where:
Place du Mont Blanc
Cost:
FREE
The 22nd edition of this celebration of tradition and music is themed around "women" of the genre. You can see a number of special events throughout the region including here in Central Chamonix at our church St.Michel.
Where:
Mont Blanc region
Cost:
Full price: from 30 €, Reduced price: 27 €, Student: 20 €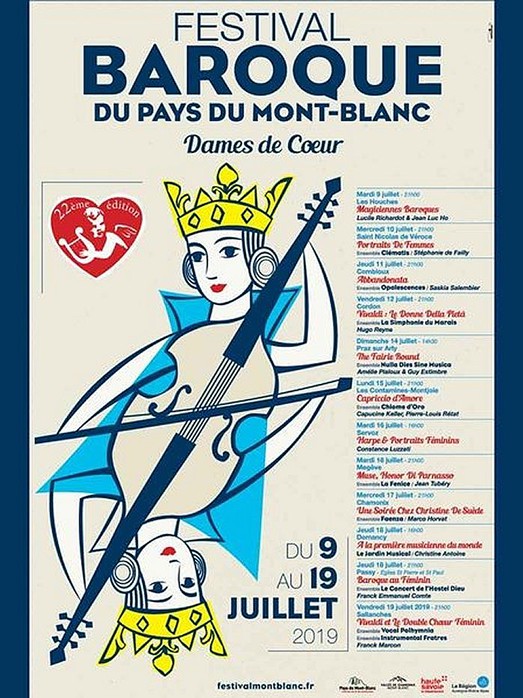 Bastille Day (French national celebration)
14th July
As this national holiday will fall on a Sunday expect to celebrate and party on Saturday the 13th! Choose from the following events recommended by Collineige:
Or if you want to drive nearby to experience a small local festival 30 minutes away:
Collineige Recommendations July Week 3
The Cosmojazz Festival Chamonix is your change to enjoy free music in amazingly scenic locations in the Vallée de Trient and Chamonix Mont-Blanc.
Where:
As well as a daily agenda of open-air alpine concerts, the after party heads to the centre of Chamonix each evening to Parc Couttet, Maison Des Artistes. Take a look here.
Cost:
FREE
Collineige Recommendations July Week 4
takes place from July 6th to the 28th, however three of the final stages will take place within 3hrs drive of Chamonix.
July 25th: stage 18 from Embrun to Valloire (207km)
July 26th: stage 19 from Saint Jean de Maurienne to Tignes (123km)
July 27th: stage 20 from Albertville to Val-Thorens (the last mountain stage before the peloton's arrival in Paris)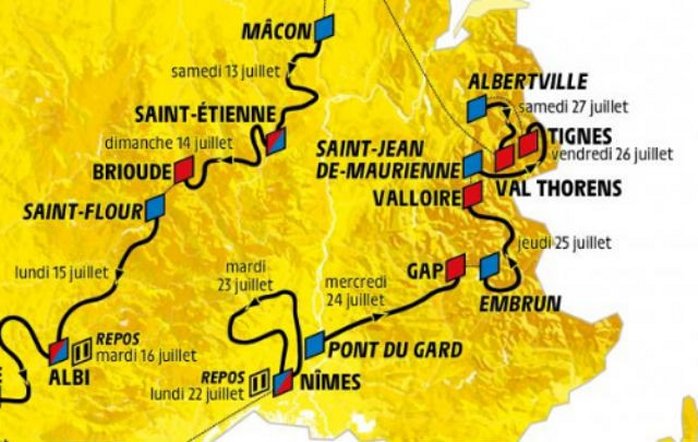 If you're a cycling buff read back on the Tour de France of 2017 which came even closer to Chamonix to nearby Chambery here